I woke up with a sore throat and no motivation today. I got lots of sleep (on and off) but my body hurt from the adventures of the day before. The weather outside was pouring rain, but I had planned to go to the Atomium and Mini-Europe today and I wasn't going to let rain and a closed throat stop me!
"The Atomium is a landmark building in Brussels, originally constructed for the 1958 Brussels World's Fair. It is located on the Heysel Plateau, where the exhibition took place. It is now a museum." 
When I arrived, I was super excited. This was amazing to look at, and I couldn't wait to explore the museum. The issue was, however, there was a 2 hour wait to purchase tickets and a 1.5 hour wait to get inside. If you know me, you know i'm not a patient person. However, the reason I didn't do it wasn't because of that. The Atomium was about 10 miles from my Airbnb and I had to take a bus to get there. Because of my late start, I didn't arrive until 1. The last bus is at 6pm. I was worried with the length of the lines, plus the time within the museum, plus the fact I was dying to see Mini-Europe while there – I didn't want to risk it.
So, I took pictures, admired the outside of the Atomium, and then walked my sick-ass to Mini-Europe which is right in the same area. Before I go any further, let me let you in on a secret. PRO TIP TIME – If you happen to go to the Atomium and Mini-Europe , and find there are long wait times like I did, try Mini-Europe first. I found out, when I was walking out, you can purchase tickets to the Atomium from the Mini-Europe admission kiosk. And, there was absolutely no line at Mini-Europe!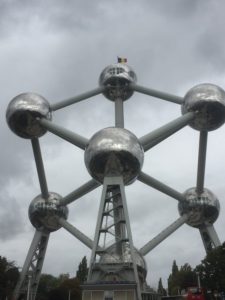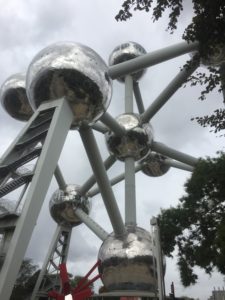 Anyways, when I first walked into Mini-Europe I was so underwhelmed. The first few displays were cheesy and the booklet they gave me to follow wasn't quite lining up with what I was seeing. Remember when I said I am not a patient person? Well, yeah. I just kept walking and then I actually entered the actual Mini-Europe exhibits and was blown away. /Facepalm.
Even with the downpour of rain, it was awesome! The detail, sound effects, and history that goes along with the displays were really fascinating. I was there for about 1.5 hours, but mind you I am not a history buff so at a certain point I hit my "learning wall", and decided to just stroll and admire the displays instead of learning about every single thing they had.  To give you an idea, the Mini-Europe booklet they gave me as a guide has 64 pages of history. I called it quits around "La Mancha".
It was a pretty neat experience, and it was also a blast to people watch here. I would go back again just to do that. I have included a few pictures here, but not nearly as much as I took. I don't want my iPhone's picture quality to detour you from visiting should you find yourself in Brussels.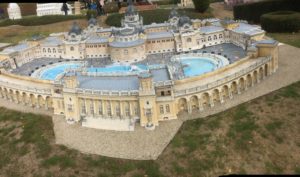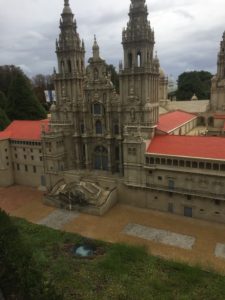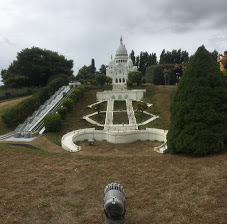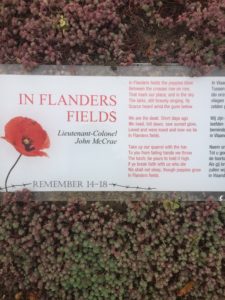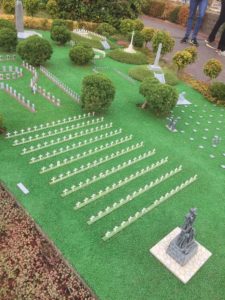 Also, if you happen to be here with a traveling partner who is a history nut, I recommend going at your own pace and meeting them at the bar next door once done. Someone who really wanted to learn all of the things could easily spend a few hours here. Thank god I came alone!
In the area with the Atomium and Mini-Europe was a few other things. There was a movie theater and Oceade, which is an indoor water park. If you're coming with the kiddos, I noticed a bar that was connected to that water park (duh, of course I did).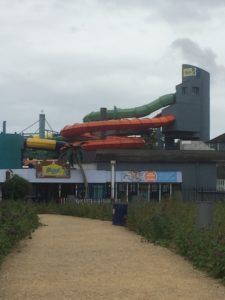 If I could do anything different, I would have either woken up earlier or re-structured my day so I could have gone into the Atomium. Oh, side note they don't allow backpacks into the Atomium. No even the gift shop. I believe I saw lockers, however.
XOXO,